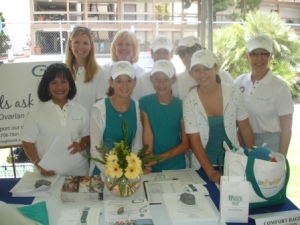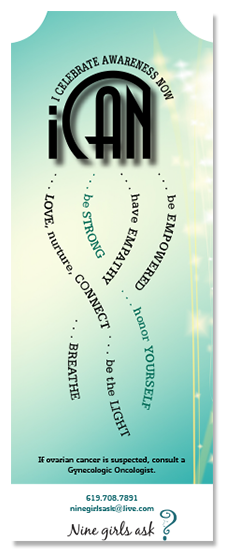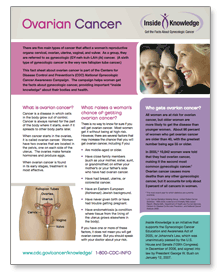 Signs & Symptoms
Get the Facts about Ovarian Cancer
Did You Know?
• Ovarian cancer is the most challenging type of gynecological cancers to diagnose.
• Ovarian cancer occurs in approximately 1 in 70 women.
• Each year over 22,000 women are diagnosed with ovarian cancer
• Approximately 110,070 women will be diagnosed with a gynecological cancer
• Detected early and treated properly, survival increases to over 90%
• Obtain an annual Pap Smear (remember it does NOT detect ovarian cancer)
What should I look for?
• Abdominal pressure, bloating, or discomfort
• Nausea, indigestion, or gas
• Constipation, diarrhea, or frequent urination
• Abnormal bleeding
• Unusual fatigue
• Unexplained weight loss or gain
• Shortness of breath
• See a health care professional if symptoms are unusual for you and persist.
Who Gets Ovarian and other Gynecological Cancers?
• All women are at risk, but some are at higher risk
• Family or personal history of ovarian, breast or colon cancer• Not Bearing children
What Can Reduce the Risk of Ovarian and Other Gynecological Cancers?
• Oral contraceptives
• Pregnancy and breast-feeding
• Tubal ligation/hysterectomy
• Removal of the ovaries
• Pap Smear (excluding Ovarian Cancer)
What Can You Do?
Until a screening test is found, here is what you can do:
• Have an annual vaginal/rectal pelvic exam.
• If you are at high risk, discuss regular monitoring with your doctor.
• If you have symptoms, ask for a trans-vaginal ultrasound and a CA 125 blood test.
• If ovarian cancer or any gynecologic cancers are suspected, consult a Gynecologic Oncologist.
To find a Gynecologic Oncologist in your area, call the Gynecologic Cancer Foundation at 800.444.4441.