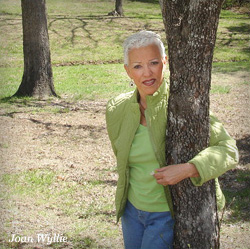 "I have learned that certain events in our lives happen for a reason; there is unquestionably a plan set into motion that brings us to who we are and who we become."
Joan Wyllie
Nine Girls Ask?
Nine Girls Ask? for a cure for ovarian cancer (NGA), is comprised of extremely talented, dedicated volunteers including many courageous survivors. We are a 501(c)3 non-profit organization dedicated to the unification of women to eradicate this "not so silent" disease. No one associated with NGA accepts monetary payment in any form. We feel it is so important to assure that all funds raised go directly to research and hopefully a test for early detection.
When our founder Joan Wyllie was diagnosed, she instantly became aware of the fact that there was no other women to turn to for support or advice regarding "what to expect". NGA was formed solely to help other women while experiencing their journey with ovarian and other gynecological cancers. In a very short time, fund raising and awareness became very important to NGA, as the need was evident.
Once Nine Girls Ask? for a cure for Ovarian Cancer was formed, the original small group of members had no problem finding women who were very eager to help. Volunteers included friends, relatives and other survivors. These women work so hard and pour their hearts into growing Nine Girls Ask? and reaching out to other women. NGA realizes the importance of being able to pick up the phone and talk to another woman who has experienced this journey before them. NGA members become very dear friends and sisters.
All members of NGA become extremely close, along with their entire families and are so protective of one another.
We know together we will make a difference!
"I once saw the world through tinted windows, I stepped out, and could not believe what I saw"!Author Unknown