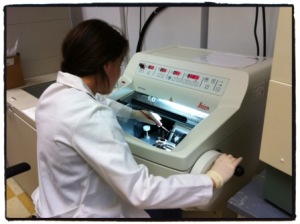 ~2011~ Leica CM1950 Cryostat Purchased by NGA for UCSD Moores Ovarian Cancer Research Team. Cryostats are used in the analysis of tumors. In simple terms, it is an ultra fine "deli-slicer", called a micro tome, placed inside of an extremely cold freezer to keep tumor samples at -30 degrees Celsius. These thin sections of tumor samples are cut and then transferred to microscope glass slides. The Cryostat allows the Research Team to cut precise tumor sections which is one of the most important steps in post tumor analyses.
Help Conquer
Join us in the fight against Ovarian Cancer
Ovarian cancer is one of the most challenging of the gynecological cancers. Approximately 1 in every 55 women will be diagnosed with Ovarian Cancer. Ovarian Cancer has just recently been labeled "The Not So Silent" disease. Most cases diagnosed do have a common thread of similar symptoms. Most women complaining of symptoms are referred to physicians for illnesses including bladder and intestinal problems.
Much of the information we provide on our website will come from not only mine but other women's personal experiences. If you have read "Joan's Story," you will be familiar with my personal journey. I was diagnosed with Ovarian Cancer Stage 3C-4. Over a six month period of experiencing almost every symptom of Ovarian Cancer I was misdiagnosed by nine physicians. I was diagnosed on February 29, 2008, only after insisting on laparoscopic surgery.
Even though a concrete test does not currently exist for Ovarian Cancer, there are steps that can be taken if you suspect you may have symptoms of Ovarian Cancer. Tell your doctor you would like to have a Transvaginal Sonogram. Insist on a simple blood test called a CA125. Although this blood test is not a concrete test for OC, it could and I emphasize the word could be an indicator that you should be tested further for this disease. It is inexpensive and even though it may give a false positive or negative result, I wish I had insisted on one long before my diagnosis. It is possible it would have shown an elevation and would have given the doctors a reason to look further at the probability of my diagnosis of Ovarian Cancer and they may have found it prior to becoming stage 3 & 4. There are currently numerous Ovarian Cancer Research Teams making advances towards finding a cure for Ovarian Cancer.
Throughout my journey I was convinced we are not statistics and every one of us are individuals. We have our own unique molecular makeup. We are all different ages, in different stages of health, have different life styles etc. My goal is that none of us are to be "put in a box," with all other women with Ovarian Cancer. If you have been diagnosed, just know there is only one of you. No one else will react to surgery and treatment like you will. No one else has the identical emotional make up as you. There is hope! Do your homework! Be your own advocate! Ask questions! Contact "Nine Girls Ask?" for a cure for Ovarian Cancer. We will do everything in our power to help you in any way possible.
We need your help to conquer this disease. "Nine Girls Ask?" for a cure for Ovarian Cancer, has a very definite purpose and that is to raise awareness among women and doctors alike regarding the signs, symptoms and risks of Ovarian Cancer. In addition we will raise funds that will be delegated directly to Ovarian Cancer Research regarding first diagnosis and recurrence.
Please help us fight, help us win this battle. Our desire is to foster a feeling of sisterhood among women. We must all unite to make a difference.
PLEASE CLICK ON THE " JOIN JOAN" LINK AND BE A PART OF "NINE GIRLS ASK?" FOR A CURE FOR OVARIAN CANCER. WE CAN USE YOUR HELP BOTH PHYSICALLY AND FINANCIALLY. HELP US ERADICATE THIS "NOT SO SILENT" DISEASE. WE WILL MAKE A DIFFERENCE, AND YOU CAN PLAY A VERY IMPORTANT ROLE IN "NINE GIRLS ASK? FOR A CURE FOR OVARIAN CANCER" ACCOMPLISHING OUR GOALS!